Give the gift of creativity with craft kits by The Craftery
At The Craftery, we believe that creativity is a gift to be shared. That's why we're excited to bring back our craft kits, just in time for the holiday season. Our kits are sustainably packed and include everything you need to create a beautiful and unique project, whether you're a beginner or a seasoned crafter.
We originally planned to open our brick-and-mortar store in 2020, but the COVID-19 pandemic delayed our plans. During that time, we pivoted to selling craft kits as a way to help people stay creative and connected while they were social distancing.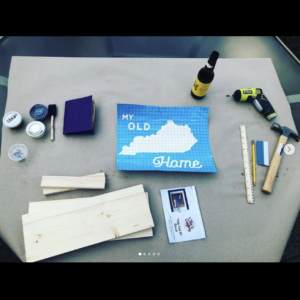 Our craft kits kept us going until we could welcome Makers into our studio space. Now, our craft kits stand as a testament to you, our Makers! You want to share the gift of creativity beyond the walls of The Craftery and we want to help you. 
We believe that giving someone a craft kit is more than just giving them a gift; it's giving them an experience. It's so easy in our world to disconnect with our creativity, with making, with using our hands to see what we can do. It makes us unhappy, it makes life boring, feel old, tired, repetitive and pointless. We need to take time to play, to create, to explore, to let our guard down and see what we come up with. 
Our craft kits take the intimidation, the barriers of going to the store and finding the supplies, the mental blocks of getting started and push them to the side.  
Here are just a few of the benefits of giving craft kits as gifts:
It's a unique and thoughtful gift. Instead of giving someone another generic gift that they'll probably never use, give them a craft kit that shows you care about their interests.

It's an educational gift. Craft kits can teach people new skills, such as woodworking, macrame, or string art.

It's a relaxing and therapeutic gift. Crafting can be a great way to de-stress and unwind.

It's a fun and creative gift. Craft kits allow people to express themselves creatively and make something they love.

It's supporting a local, women-owned business! The Craftery is 100% woman-owned and locally-owned.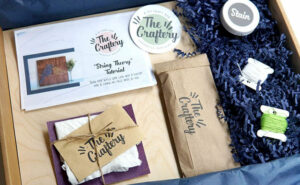 So if you're looking for a unique, thoughtful, gift, consider giving a craft kit from The Craftery. We have a variety of kits to choose from, so you're sure to find one that's perfect for the person on your list.
Check out our shop for the full selection of craft kits – with delivery or local pick-up!