At The Craftery, creativity knows no bounds! Each Holidays season, we offer a different way to explore your creativity! Our specialty classes are designed to bring people together in a fun and unique way, offering a diverse range of experiences that cater to every artistic taste. In this blog post, we'll highlight three exciting classes that promise not only a delightful time but also an opportunity to explore your creative side.
Paint Your Pet with Zach Lowe:
Are you a pet lover with a passion for painting? Or maybe you've never painted before and thats okay! "Paint Your Pet" with Zach Lowe is the perfect class for you! Zach, a talented artist with a flair for capturing the essence of furry friends, will guide you through the process of creating a masterpiece featuring your beloved pet. Whether you're a seasoned artist or a beginner, this class is a fantastic way to immortalize your four-legged friend on canvas. Joins us 12/10/23 12-3pm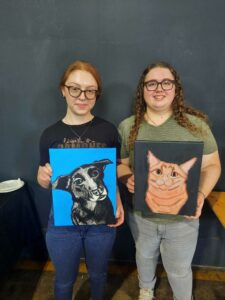 DRAG-IY With Local Drag Queen May O'Nays:
Get ready to deck the halls with glamour and fabulousness! Local drag queen extraordinaire, May O'Nays, is here to add a touch of sparkle to your holiday season. In the "Holiday House" class, May will guide you through the art of creating your very own putz style holiday house scene. From glittery rooftops to dazzling doorways, this class promises to infuse your holiday decor with a dash of drag queen flair. Along with May, Makers Mark is also making an appearance with the chance to make your very own Makers Mark cocktail and chance to win fun prizes! It's the perfect blend of creativity and holiday spirit!
Join us 12/19/23 6pm-8pm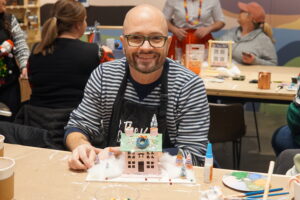 Cookie Decorating with The Louisville Cookie Company:
Who says cookies are just for eating? At The Craftery, we believe that cookies can be a canvas for your artistic expression. Join us for a delightful session of cookie decorating with The Louisville Cookie Company. Learn the art of transforming plain cookies into edible masterpieces. You will create 4 one-of-a-kind cookies. From intricate designs to vibrant colors, this class is a sweet treat for both your eyes and taste buds. Perfect for individuals or groups, it's a fantastic way to add a personal touch to your next celebration. Join us  12/5/23 6-8pm
At The Craftery, our specialty classes offer a unique blend of creativity, skill-building, and community engagement. Whether you're into painting, drag queen-inspired crafts, or edible art, there's something for everyone. Join us for an unforgettable experience, where you can unleash your creativity and connect with like-minded individuals. Don't miss out on the opportunity to make memories and master new skills. Check our schedule, gather your friends, and let the crafting adventures begin!